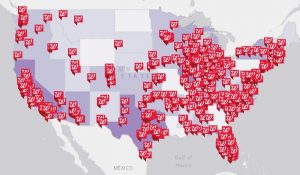 Walgreens is leading the fight against prescription drug abuse with new programs to help curb the misuse of medications and reduce the rise in overdose deaths. In the first ongoing national effort by a retailer, Walgreens has installed safe medication disposal kiosks in over 500 pharmacies across 35 states. Florida leads the way, along with Texas, in the Southeast region.
Sally West, Regional Director of State Government Relations for Walgreens stated that, "We will be planning an event at our Tallahassee kiosk location – on Thomasville Road & Killearney Way – once Sheriff McNeill is inaugurated. We'll invite him and Loranne Ausley to the store to see how the kiosk works."
Walgreens safe medication disposal kiosks provide a safe and convenient way to dispose of unwanted, unused or expired medication at no cost, year-round. Kiosks are available during regular pharmacy hours and offer one of the best ways to ensure medications are not accidentally used or intentionally misused by someone else.