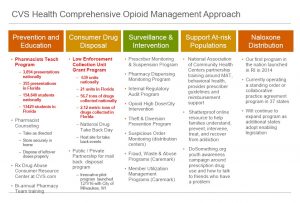 We recently received an update from Michael Ayotte R.Ph., Vice President of State and Local Government Affairs for CVS Health in Washington DC.
As you know from our recent post, CVS is leading the way as a corporate PDMP partner with programs that help further the effectiveness of the FLPDMP Foundation and its sister organizations throughout the US.
We now have the CVS Health Program [PDF] available for public review. Of special note are the results of the CVS Drug Take Back Program, which places at no cost drug "take-back" containers in local police stations. There are 21 active units in Florida and to date they have returned over 2 metric tons of expired medications to date.
CVS is also making great progress with their Pharmacist Teach Program. The program utilizes CVS pharmacists as a community resource to visit elementary and high schools. There, they present a drug education and awareness program created by one of our national partners. In Florida we have done 355 presentations impacting over 13K students.
Mr. Ayotte echoes our appreciation when he states that, "CVS is proud to be one of the many companies investing resources to serve the communities we are part of."